Victories from the Inside Out: Dismantling the Prison Industrial Complex
When: Tuesday, April 10 — 7-9 P.M.
Where: First Congregational Church, 2501 Harrison Street, Oakland, CA.
JOIN US for a live taping of the nationally-distributed podcast Speak Out with Tim Wise, featuring Dorsey Nunn, Executive Director of Legal Services for Prisoners with Children (LSPC), and Taina Vargas-Edmond, founder and Executive Director of Initiate Justice, in conversation with author and educator Tim Wise.
The conversation will focus on recent criminal justice reform and civil rights victories—such as the passing of Ban the Box policies and Prop 57—as well as current campaigns, including the Voting Restoration and Democracy Act and this year's Quest for Democracy Advocacy Day.
Tickets: $5-25, sliding scale. No one turned away for lack of funds.
For tickets and accessibility information, please click here.
Check out the video of last year's engaging conversation with Dorsey and Tim!

---
Can't wait until next week? Join LSPC / All of Us or None for our first First Friday in Oakland!
When: Friday, April 6 — 5-9 P.M.
Where: Telegraph Ave, from W. Grand to 27th, Oakland, CA.
All of Us or None will be tabling at FirstFriday in Oakland! Come on down to talk with us about our social justice campaigns to Ban the Box, restore voting rights, and end mass incarceration.
We'll have All of Us or None shirts, hoodies, and hats on hand for people who want to represent and support formerly incarcerated people and family members.
You'll also have the opportunity to join AOUON, a grassroots organizing project that organizes and empowers formerly incarcerated and convicted people and our families at the local, state, and national level.
See you on the streets!!

---
While you're here, sign up for:
QUEST FOR DEMOCRACY Advocacy Day—
When WE Speak Directly to Legislators & Policy Makers!
When: Monday, April 30 — 9 A.M. – 4 P.M.
Where: California State Capitol, Sacramento, CA.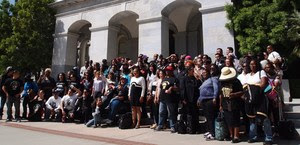 Every Spring, LSPC and All of Us or None organize a large-scale statewide lobby day in Sacramento for formerly-incarcerated people, our family members, and allied community leaders and activists. We gather to show our support for pending legislation that affects people that are impacted by incarceration, and to assert ourselves as leaders, experts, and contributing members of our communities.
We are asking that all organizations, particularly with members who have been previously incarcerated, to join us on April 30, 2017. Monday morning will feature a training workshop on our sponsored bills and on effective legislative advocacy, then Action Teams will visit each legislator's office to advocate in person, followed by a rally on the Capitol steps.
Please still RSPV here so we can provide you with lunch!
If you have any questions, please contact Sandra Johnson:sandraj@prisonerswithchildren.org / 415-625-7059