LSPC currently has 13 staff members. Our staff members work on a variety of
projects, supported by our Executive Director.
Dorsey Nunn, Executive Director, has over thirty-five years experience working on prison related issues. He is the Co-Founder of All of Us or None, a project of LSPC started by formerly incarcerated people in 2003. He has been in the forefront of many social justice organizations from their beginnings, including Critical Resistance and the California Coalition for Women Prisoners. Dorsey has received numerous awards including the "Certificate of Special Congressional Recognition" by Nancy Pelosi and the "Senate Certificate of Recognition by Senator Jackie Speier. He is also a recipient of the Fannie Lou Hamer Award from the African-American studies department at UC Berkeley. Dorsey was sentenced to life in the California Department of Corrections when he was 19 years old. He paroled in 1981 and discharged from parole in 1984.
Hamdiya Cooks, Administrative Director, has over 25 years of experience working on  issues facing women in prison. Having served 20 years in the federal prison system, while incarcerated, Hamdiya led Muslim women prisoners in the struggle to honor their religious practices, including headgear and fasting. She was also a key organizer for Black Culture Workshops at the Federal Correctional Institution in Dublin, CA for over 15 years. At LSPC, Hamdiya is responsible for day to day administrative duties. She is the former director of the California Coalition for Women Prisoners. Hamdiya holds a B.A, degree from Columbia College. She published an article entitled "Islam in Prison" in Prison Legal News and an essay profiling the lives of three women in prison in the book Schooling the Generations in the Politics of Prison.
Ellen Barry, Fund Development Director, returned to LSPC in February 2016, re-joining the staff as fund development director. She founded LSPC in 1978 and was executive director through 2001. For the past 15 years, she has been a non-profit consultant through Women & Justice Issues. She is a Senior Soros Justice Fellow (1997), a MacArthur Fellow (1998) and, as one of 1000PeaceWomen, was nominated for the Nobel Peace Prize (2005/2008). She is co-founder of National Network for Women in Prison, Critical Resistance, and the Criminal Justice Initiative Funding Circle.
Ellen has written and spoken extensively on incarcerated parents and their children, pregnant prisoners and the relationship between race and mass incarceration. Now a "recovering lawyer," she has brought over a dozen class action lawsuits on behalf of incarcerated parents and their children. Recently, as executive director of Insight Prison Project, she learned alot about restorative justice and the critical importance of racial diversity. She is a family member of formerly incarcerated people in recovery, a mother of two amazing young people, Angela and Tony, a former Blues Club owner, and a recent convert to yoga.
Carol Strickman, Senior Staff Attorney, serves on our Family Unity Project, which monitors mother-infant prisons, opposes shackling of pregnant prisoners, and advocates for expanded prison visits for incarcerated parents, among other issues. She tracks pending legislation with the Policy Committee, drafts and updates our legal manuals, and works with interns and staff to reply to requests from prisoners and their families. In 2011, she helped lead LSPC's response to the historic prison hunger strike; she continues to work to oppose solitary confinement through her role on the litigation team with the Center for Constitutional Rights in a recently filed class action suit, Ruiz v. Brown. Before coming to LSPC, Carol worked as a criminal appeals attorney for indigent clients. She graduated from UC Berkeley School of Law (Boalt Hall) in 1977.
Brittany Stonesifer, Staff Attorney, joined the LSPC staff in March 2014. Before starting her current position, Brittany worked with LSPC as a law student intern and later as a post-graduate legal fellow. Originally from Hawaii, Brittany is a graduate of Evergreen State College, where she focused on race, class, and gender studies, and UC Hastings College of the Law, where she specialized in civil rights and international human rights law. She currently co-teaches the "Lifelines" family law classes as part of LSPC's Family Unity Project, advocates for reforms to systems of court-ordered debt, provides reentry legal assistance, and coordinates LSPC's interns and volunteers.

Eva DeLair, Staff Attorney, joined LSPC's staff in February of 2016. Before starting her current position, Eva worked with LSPC as a law student intern and later as a post-graduate legal fellow. Eva's primary responsibilities include legislative and administrative advocacy. Eva's passion for working with and for people involved in our criminal-legal system began when she participated in a community garden inside California Institution for Women as an undergraduate student at Scripps College. From there, Eva went on to law school where she focused on criminal and prisoners' rights law at Drexel University Law School in Philadelphia, Pennsylvania. While in law school, she interned at the Pennsylvania Institutional Law Project and the Philadelphia Defender Association.
Endria Richardson, Policy Director, joined LSPC in April of 2014 as a post-graduate law fellow, and as a staff attorney in April of 2015. Before attending law school, Endria developed and taught HIV harm reduction workshops, convinced that criminal and drug policies focusing on abstinence and other restrictions of personal liberty are at their core racist and ineffective, and should be replaced with reality-based strategies developed by directly impacted communities. She is very happy to be continuing her work on criminal policy at LSPC. Endria is a graduate of Harvard College, where she studied creative writing and English Literature and Stanford Law School, where she interned with the San Francisco Federal Defenders and Drug Policy Alliance. She also enjoys climbing and horror movies.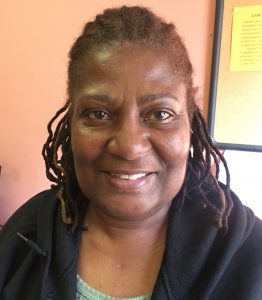 Sandra Johnson, 2017 Elder Freeman Policy Fellow, is a proud member of AOUON and is committed to advocating to end mass incarceration. Before coming to LSPC, Sandra studied Health Education and Social Science at City College of San Francisco. Sandra is originally from Monterey, California, and is the oldest of 6 siblings. She comes from a single parent household and her family was very impacted by mass incarceration: she served about 15 years in and out of the system, and her oldest brother is currently doing year 31 of a 17-to-Life sentence. She understands the pain and struggles of others that still have loved ones behind the walls and has dedicated herself to the fight to end the injustice of both being first locked up and then locked out upon release.
Joseph Johnson, 2017 Elder Freeman Policy Fellow, was imprisoned for twenty-seven years (1982-2009) throughout the state of California. He has over twenty years experience as a civil and criminal litigation paralegal. He will be leading our work on AB 1008: The Fair Chance Act to expand California's Ban the Box law to private employers. Learn more about LSPC's bills below.
Manuel La Fontaine, Program Manager, provides leadership for all LSPC programs. He is committed to building the voices, visibility, and leadership of people and communities most impacted by incarceration. Manuel has extensive community organizing, relationship building, and facilitation experience. As a former captive and survivor of California's Dept. of Corrections, better known as the Punishment System by its survivors, he strives to help transform the narrative on how current and formerly-incarcerated people are framed by dominant society to one that promotes a culture of healing through restorative & transformative practices. Prior to joining All of Us or None in 2008, Manuel was the outreach coordinator for Project Rebound, a unique program helping formerly-incarcerated people obtain educational objectives at San Francisco State University. Manuel lives with his beautiful family in the Bay Area. His passion includes his family, culinary, travel, and standing up for truth, equality, and transformative justice.
Harriette Davis, Family Unity Project Coordinator, is an All of Us or None co-founder and health educator. As our Family Unity Project coordinator, she oversees our work with family law conferences and classes, as well as our policy work to support the maintenance of family bonds when a loved one is incarcerated. Formerly incarcerated herself, she has 30 years of experience doing advocacy for incarcerated people, starting with domestic violence issues. She is also a mother of 3, grandmother of 9, and a registered nurse. Harriette wants to be part of bringing solutions to an impacted population many don't understand or sympathize with, and going beyond mere maintenance to wholeness and health. The key word for her in organizing work is "people."
Aaliyah Muhammad, Organizer, has been at LSPC since  2005. She worked as the Intern Coordinator/ Community Liaison position until 2007 when she helped organize the Sacramento Chapter of All of Us or None. Aaliyah and many family members have been affected by the Prison Industrial Complex. She feels taking on the PIC is a David and Goliath battle, but the small victories are well worth the fight. Aaliyah travels around the Sacramento area to educate the public about the discrimination former prisoners face coming home from prison. She is currently enrolled in Paralegal Studies at University of Northern California Law School, Sacramento.
Dolores Canales, Organizer, has become a strong and compassionate advocate and spokesperson for incarcerated peoples and their families. Her passion is rooted in her own experience being formerly incarcerated for 20 years and witnessing the ongoing imprisonment of her son in solitary confinement for 15 years. She was instrumental in co-founding California Families Against Solitary Confinement (CFASC), a collective of family members that rose in protest of California's conditions of confinement in Security Housing Units (SHU).  In 2013 Dolores received the Family Unity Award by Legal Services for Prisoners with Children (LSPC), and in 2014 she was awarded the Soros Justice Fellowship for the Family Unity Network (FUN).
Tina Nunn, Administrative / Program Support Assistant, joined the LSPC family in February 2015. Before coming to LSPC Tina worked in the customer service field for 17 years for companies such as Hewlett-Packard and Xilinx. Her life has been strongly affected by her mother and many family members being imprisoned. It has always been a desire of hers to be of service to those who are in need. She is honored to be a part of such a great organization. A mother of two daughters and grandmother of two grandchildren, in her spare time Tina loves to fish, take long walks and participate in 5K runs.
Mark Fujiwara, Communications Coordinator, started interning at LSPC in 2014, joined the Development Team in late 2015 before taking over Communications and Media in May 2016. A Bay Area native, Mark earned a B.A. in English at UCLA, an M.F.A. in Poetics at New College of California, and an advanced degree in Penal Studies from Cal State San Quentin. Having experienced the mass incarceration system firsthand and seen the traumatic effect on families, Mark is committed and honored to work at LSPC and All of Us or None to help other formerly incarcerated people and families and dismantle the prison-industrial complex to the point so the only "pun"ishment is his corny wordplay. When not watching soccer on TV or at Avaya Stadium as a San Jose Earthquakes season ticket holder, Mark loves to play soccer with his son and daughter, read soccer books, write soccer articles, and attempt to organize an All of Us or None soccer team.